The flexibility and serviceability of our signs is matched only by the helpfulness of our people.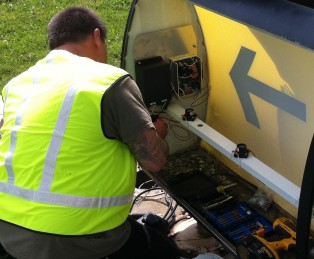 As our name suggests, our signs feature an elegant and aerodynamically curved face to add strength and better shed jet blast while providing more uniform lighting. But there are plenty more reasons why the top airfields in the US prefer Lumacurve:
Our modular structure features a heavy cast  life-time frame  that can be added or taken away to easily adjust sign length, while the lighting system can always be upgraded with tomorrow's technology, and fresh legend panels simply slide in when old ones fade.
We're the only company to offer a complete 3-year warranty from date of installation. What does that tell you?
Our exclusive Wait-Less program means if you call by 10:00am, we will ship your sign or parts the same day. Which means you can always provide the highest level of safety on your airfield.
Then there's our Customer Service, filled with the many helpful folks here at our family-owned business, ready to jump in and assist you in any way.
Work together with us & in no time, you'll feel like a member of our family, too.
---
Testimonials:
"Dave,  Just a quick note to let you know of the performance of your retrograde LED kits is outstanding. With the massive amount of rain that we received from the past storm, We had (2) signs that were submerged under water about 75% of the height and when the water drained and the light was inspected, all that was needed was to hit the reset button and they came right on. Good design parameters all around."
Randy Keeth - Gainesville Regional Airport, FL  9/15/2017